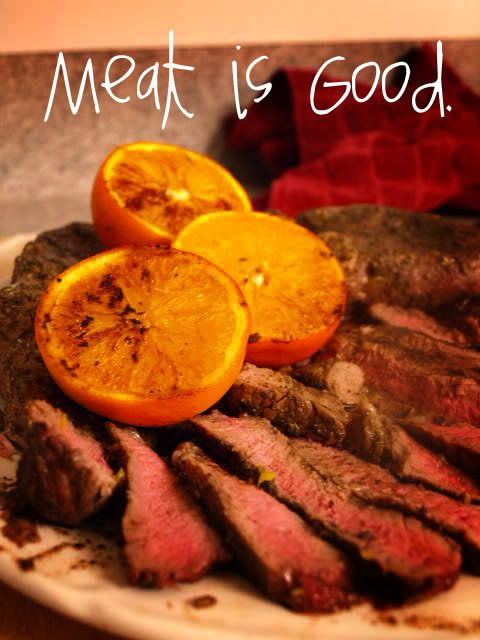 1 flank steak, about 2 pounds. (I actually used 5 petite sirloin steaks)
1 Tbsp fennel seeds
2 Tbsp black pepper
2 tsp salt
3 oranges
2 Tbsp olive oil
4 sprigs rosemary (I used about 1-2 Tbsp dried rosemary)
4 cloves garlic
cayenne pepper to taste
Mix the fennel and black peppers, crush. Take 1/2 of mixture, add salt, set aside for later. Add garlic, rosemary, olive oil, and squeezed juice from one orange. Coat meat, put in plastic baggy, marinade for 2 hours.

Once marinading is done, remove from plastic, and with a fork, remove the marinade. Coat meat with mixture that was set aside. Cook on grill, each side for about 5 min. (I used a griddle, it's too cold to grill outside!)

Cut remaining oranges in half. Douse open side with a little olive oil and place on grill (griddle). Let cook until slightly brown.

Cut meat, squeeze one of your orange halves over the meat, and serve!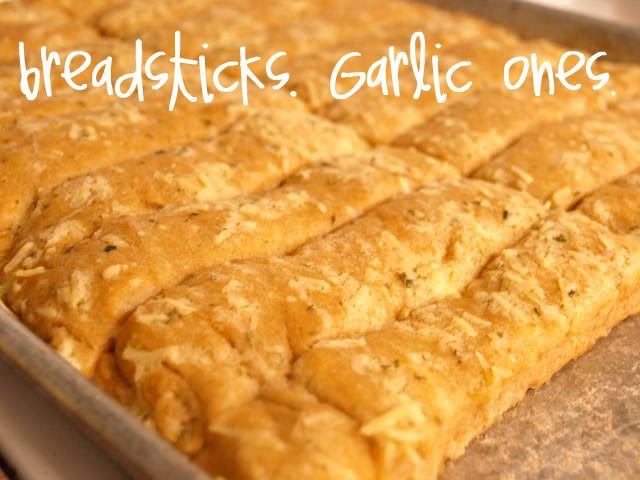 Do NOT give me credit for this recipe, even though it is one of my very favorites that I use almost weekly! My cousin Alisha posted it
HERE
.
Breadsticks:

What you NEED!

1 Tbsp yeast
1 1/2 cups warm water
2 Tbsp sugar
1/2 tsp salt
3 1/2-4 cups flour
Mix salt, sugar, and 3 1/2 cups flour in a separate bowl. Add yeast and water mixture. Blend well adding enough remaining flour to form soft dough. Knead dough for 3 minutes. Cover and let rest for 10 minutes.
Usually during the 10 minute wait is when I make the breadstick spread.
1/4 cup soft margarine
1/4 cup grated parmesan cheese
1/4 cup mayonnaise
1/2 tsp garlic salt
1/2 tsp parsley flakes
Blend ingredients well.
After the 10 minute wait period is up, coat cookie sheet. Put dough in the middle of the cookie sheet and press to outer edges. I usually flour my hands lightly so the dough doesn't stick to them.
Spread topping evenly over dough.
Cut dough down the middle and across with a pizza cutter. Let rise to almost double. Cook for 20-25 minutes at 350 degrees. Makes

one

pan of breadsticks.

Also we had this: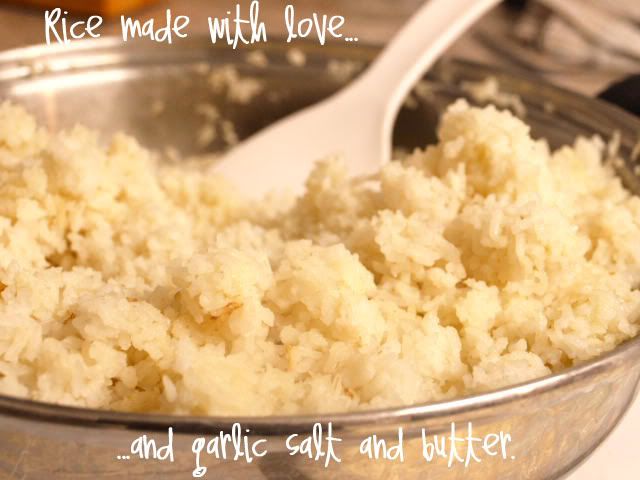 ....and this: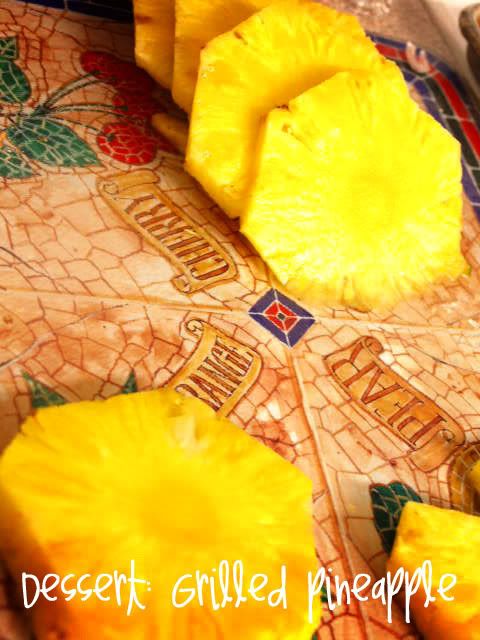 Now, wasn't that a lovely meal? I wish I had an enthusiastic response from my kiddos! (Actually they liked it, they were just tired.) At least my hubby was a happy man!

Response from the younger one:
"mmmmm...this is so good mom!"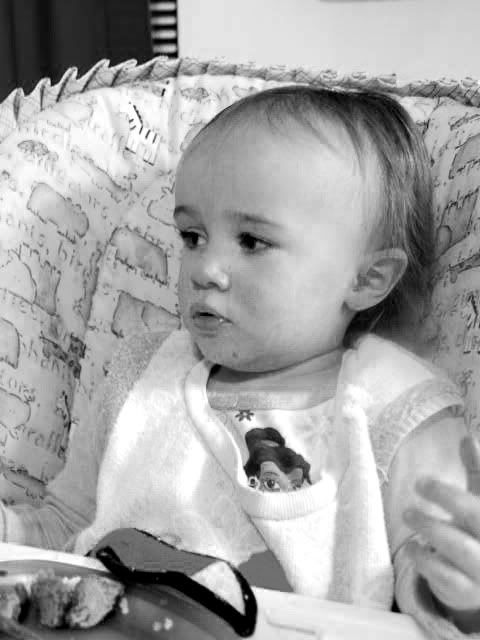 ".....I am so happy!"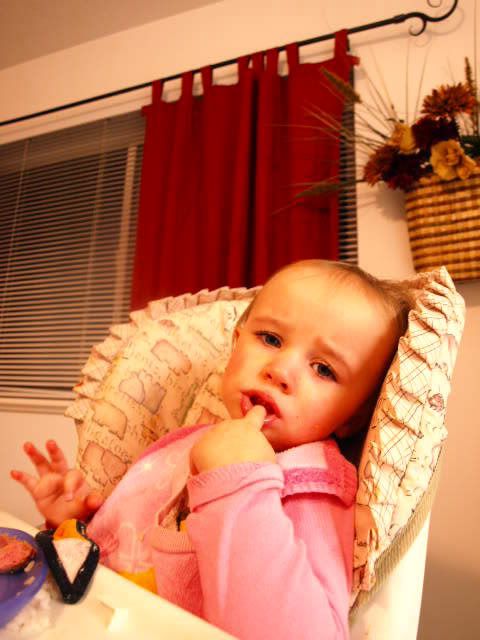 "Thank you so much mom for making me a nice dinner!"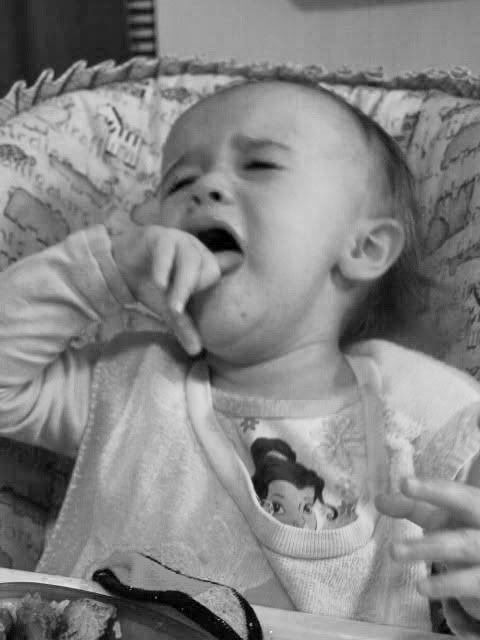 Response from the older one:
"Wow mom, best meal you ever made!"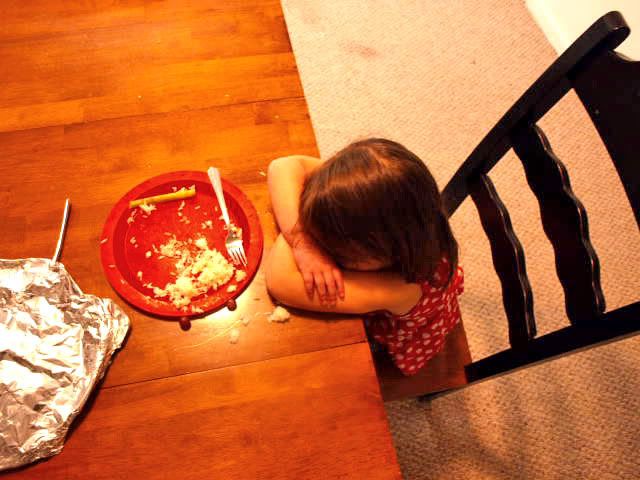 "It was so good, it put me to sleep!"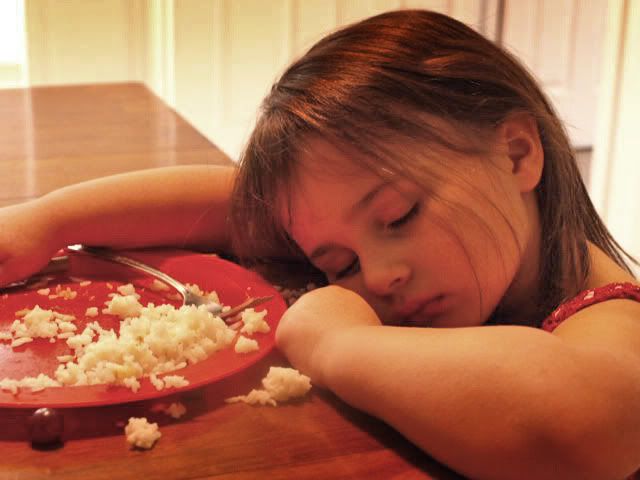 Well, I guess it's a good sign that she actually ate it?
Good thing I love being a mom, even when I don't feel the most appreciated!!!